Graduates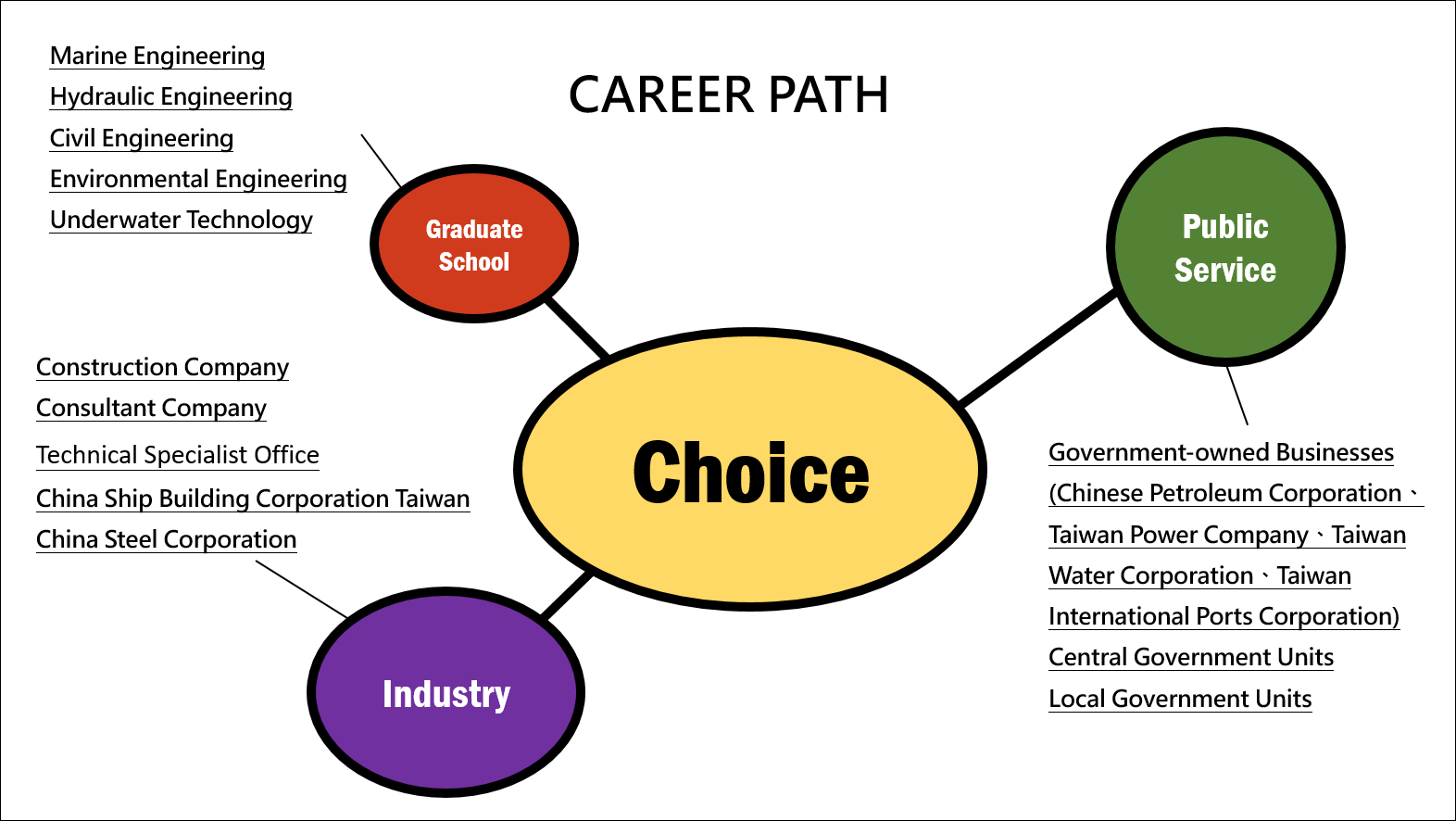 2012-2018 Career Path
Ph.D. Career Path (Click to see more)
Master Career Path (Click to see more)
Bachelor Career Path (Click to see more)
Department's Graduates
•The Department of Marine Environment and Engineering was founded in 1988, and the first bachelor students graduated in 1992. In addition, we
established our master's program in 1993, and doctoral program in 2000. There
are more than 1,500 graduates of bachelor's, master's and doctoral
degrees.
Our graduated students have participated in the following industries: construction, engineering consulting, water and pollution control, education,
public administration and defense etc.
Our graduates have been performing in various fields of work, such as
:
(1) Public service :
Ocean Affairs Council, Coast Guard Administration, Public Construction Commission, Ministry of Science and Technology, Ministry of Culture, Atomic Energy Council, Water Resources Agency, Industrial Development Bureau, Environmental Protection Administration, Construction and Planning Agency, National Audit Office, National Science & Technology Center for Disaster Reduction, National Center for High-Performance Computing, National Scenic Area Administrations, Local Government's Engineering Office, Maritime and Port Bureau, Naval Meteorological and Oceanographic Office, Freeway Bureau, Directorate General of Highways, Taiwan Taoyuan International Airport, Reservoir Administration etc.
(2) Public enterprise :
Taiwan Power Company, Chinese Petroleum Corporation, China Steel Corporation, China Steel Aluminum Corporation, China Ship Building Corporation, Taiwan Water Corporation, Taiwan High Speed Rail, Taiwan Railways, Rapid Transit Corporation, Metal Industries Research & Development Centre etc.
(3) Engineer :
CECI, UNION-TECH Engineering Consultants, Sinotech Engineering Consultants Ltd, Hao Hai Consultant, CTCI, MAA Group Consulting Engineering, GIBSIN, Pacific Engineers & Constructors, AECOM, Stantec, Pan Cheng Engineering Consultants, Digiwin Software, SGS,
environmental technology company, Ship And Ocean Industries R&D Center, Jong Shyn Shipbuilding, Formosa Plastic Group, BP plc, Institute for Information Industry, IBM, NEC, ASUS, Quanta Computer, Wanchi Steel, Construction Plant etc.
(4) Technician :
Civil Engineering, hydraulic Engineering, Environmental Engineering, Fire Protection etc.
(5) Teacher:
Professor, Principal, Teacher etc.
(6) Researcher :
Harbor and Marine Technology Center, Institute of Nuclear Energy Research, Architecture and Building Research Institute, Academia Sinica, Industrial Technology Research Institute, National Chung-Shan Institute of Science & Technology, Taiwan Ocean Research Institute, Taiwan Construction Research Institute, Taiwan Hydraulic Laboratory (National Cheng Kung University), Taiwan Research Institute of Water Resource and Agriculture etc.
(7) Others :
Surveying, Producer (PTS etc.), Entrepreneurship (Fishbar, Nuskin, ocean oil spill response company, environmental protection company, information company etc.), technical and management supervisor in manufacturing company (Taiwan Semiconductor Manufacturing Company, ASE Technology Holding, United Microelectronics, AU Optronics, Innolux, Chi Mei Optoelectronics, Foxconn, Google etc.), Finance and Insurance, City Councilor, Foreign administration, Doctor, Business, Telecommunication, Pilot etc.
•The department has also recommended graduated students for the school's outstanding alumni award. There are three graduates that have been
elected to receive the outstanding alumni awards, which was not an easy task, and we are proud of their achievements.
Shiau Yun Lu, Yu Li Ping, Wu Hong-Mou , Ke Zong Ting
• Wen Qi Huang, a graduated student who studied in coastal planning and management, created "Go Home! Fishbar" at her hometown, Hualien. She carved out a reputation for herself by combining marine industry, marine culture and fishery education. She has also been interviewed by the school news.
• Jia Rong Li, another graduate of ours, graduated and soon entered Taiwan Water Corporation in 2012. She was nominated and become the Company's outstanding employee in 2019. The department also invited her to give speech about her career to our students.
• It is also worth mentioning that in recent years, our graduates have participated in "offshore wind power industry" such as: Lloyd's Register Quality Assurance (1 alumnus), DNV GL (1), Jan De Nul Group (4 alumni), TMHI (1), Hung Hua Construction (3), Swancor (1), CR Classification
Society (1), China Ship Building Corporation (2), CECI (3) etc.These graduates earned their role in the company including: General Manager, Manager, Director, Technician, Engineer, Surveyor etc.
• The department also has many graduates who have gone abroad for further studies. Some have completed their degrees, returned to work as faculty members, held important positions in various workplaces or started their own businesses. There are also graduates continue to work
abroad in countries like:US, Canada, UK, Belgium, Japan, Singapore, Hong Kong and China etc.
Industry Category
•Public Administration and Defense :
Public Administration, Defense Industries, Social Security, International Organization and Foreign Administration. e.g., Coast Guard Administration, Ministry of National Defense, National Police Agency, Department of Environmental Protection, Construction and Planning Agency, Water Resources Agency etc.
•Scientific and Technical Activities :
Legal Services, Business Management Institution and Consulting, Construction, Engineering and Related Technical Consultancy, Technical Testing and Analysis, Physic and Engineering Science Research Development Service, Humanities and Social Sciences Research Development Service,Special Designing, Other Scientific and Technical Activities. e.g., Sinotech Engineering Consultants, SGS Taiwan, UNION-TECH Engineering Consultants, Taiwan Marine Heavy Industry etc.
•Construction :
Building Construction, Road Construction, Public Utilities Facilities Construction, Other Civil Engineering Construction, Leveling, Foundation and Structure Engineering Construction, Garden, Landscape Project Construction, Mechatronic, Pipe and Other Construction Equipment Installation, Final Renovation Engineering. e.g., HungHua Construction, construction plants etc.
•Manufacturing :
Petroleum and Charcoal Manufacturing, Stone Products Manufacturing, Other Non-metallic Mineral Products Manufacturing, Iron and Steel Manufacturing, Aluminum Manufacturing, Other Metal Basic Industries, Metal Architectural Components Manufacturing, Electrical Machinery, Supplies Manufacturing, Computers and Computing Peripheral Equipment Manufacturing, Ship and Parts Manufacturing etc. e.g., Taiwan Semiconductor Manufacturing, ASE Technology Holding, China Steel Corp., Innolux Corp., Foxconn Technology Group etc.