亮點介紹 于嘉順老師臺灣海峽懸浮顆粒物質之季節特性
Surface suspended particulate matter concentration in the Taiwan Strait during summer and winter monsoons
Jason C. S. Yu, Tzu-Yin Chou, Hao-Cheng Yu, Peihung Chen, Quinten Vanhellemont, Michael Fettweis
https://link.springer.com/article/10.1007/s10236-016-0992-5
The Taiwan Strait (TS), situated between Taiwan and China, is shallow, relatively turbid, and characterized by strong tidal currents and winter and summer monsoon seasons. The aim of this study was to use images from the Moderate Resolution Imaging Spectro-radiometer (MODIS) on board the Aqua satellite to investigate how local sediment sources in addition to the seasonality in wind, oceanographic currents, and waves influence the suspended particulate matter (SPM) dynamics in the TS. In winter, northeast (NE) winds drive the China Coastal Current southward. Cold water with a high SPM concentration is transported southward into the Strait. After the highest SPM concentration reaches its peak in December and January, the winds weaken and the SPM concentration decreases. During summer, winds are less strong and SPM concentration is lower. Although typhoons typically occur in summer, they generate only a weak signal in the surface SPM concentration data from MODIS because of the low number of cloud-free images during these periods. Typhoons result in a short-term increase in the SPM concentration but do not strongly influence the seasonal values in the satellite-derived SPM concentration maps.
臺灣海峽懸浮顆粒物質之季節特性
本研為國際合作計畫,比利時皇家自然科學院提供臺灣海域MODIS衛星影像資料,本研究室進行處理及分析。
臺灣海峽位於臺灣與中國大陸間,連接東海與南海;其地形複雜且深受季風、潮流及波浪影響,是水體交換與沉積物傳輸的重要水道。為探討臺灣海峽內的懸浮顆粒物質(suspended particulate matters, SPMs)在多環境因子及沉積物來源作用下的傳輸動力,本研究利用SPM與海水表面溫度的衛星影像資料、海流模式結果與水利署水文資料,進行大尺度範圍交叉分析。由於影響臺灣海峽水體及沉積物的環境因子具季節特性,分別探討東北季風與西南季風期間海峽內的水體交換與沉積物傳輸機制,並就颱風帶來豪大雨所造成的陸源性排放探討懸浮顆粒物質在海峽內的分布狀況。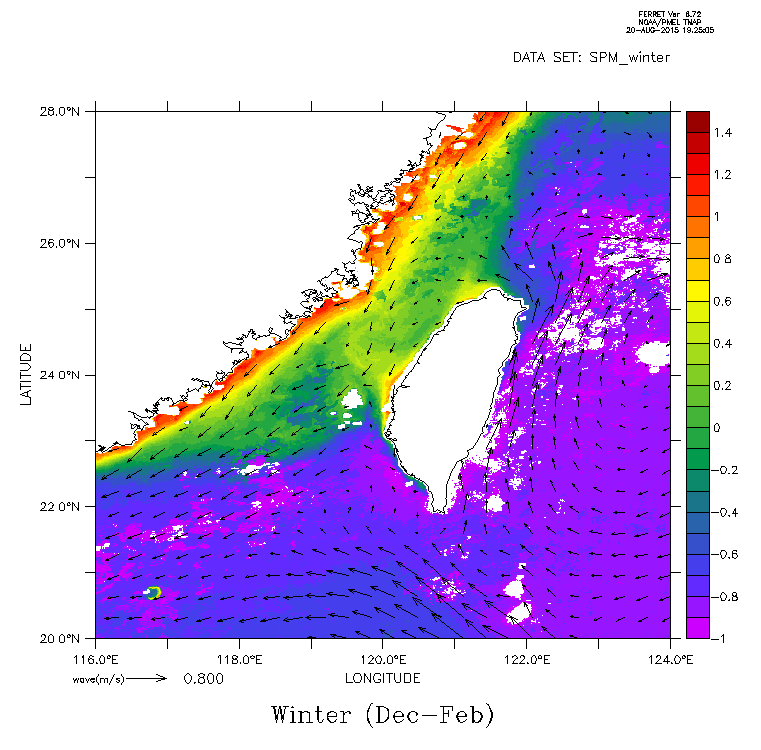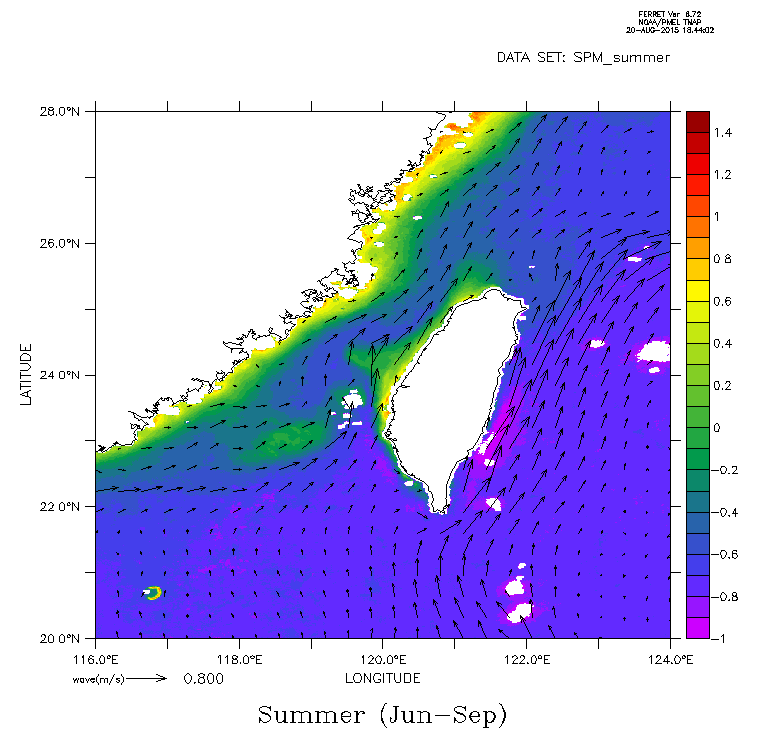 Winter and summer averaged surface SPM concentration (in log [mg/L]) with residual current [m/s].